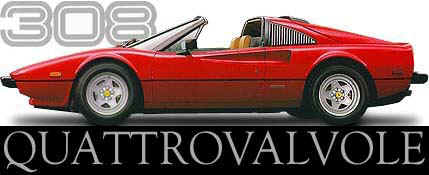 1st Pre Production QV
1982 Ferrari 308 GTS
Chassis # ZFFMA13A4D0041487 Model : Left Hand Drive North American
Nero with Nero
Production date : Feb 1982
Assembly # 1786
Engine # 105A040-00077
---

11/07 eBay Item number: 250129003142 Auto Toy Store Berlin West Berlin, NJ Miles: 35438 min. US $28,100. Leather Seats Cassette Player Air Conditioning Power Windows.

02/83 308 GTSi QV Black Black ZFFMA13A4D0041487
Jun-07-08 eBay Item number: 250256659628 Car Connections USA Inc. West Chester, Pennsylvania, 35,525 miles US $29,995. Cassette player Leather seats Power seats Power windows Air conditioning.

Date of production (2/83 as per a picture of the data plate) 28 March 2009, in a post where there was noticed a discrepancy in the build dates between the last injected 308s and the first 308 QVs from the 1982/1983 period.

As per a list of first and last cars of each model in the US, this is the first 1983 308 GTS QV of 445 cars sent to the US that year.
05/10 Offered for sale by Gordon Motorcars of Louisville, Ky.
10/10 Purchased from Gordon Motorcars of Ky by Robert Jennings with 36,482 miles