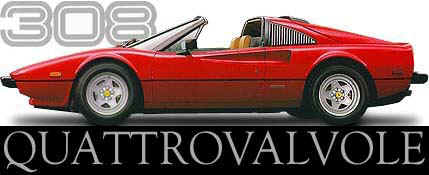 1983 Ferrari 308 GTS
Chassis # 44513 Euro Model
Rosso Corsa with Tan
Production date :
---
Deep European chin spoiler
10/03 Imported to New York then sold once to a gentleman in Ma. and then to Beverly Hills.
09/03 Listed as excellent with 18448 miles CD player and excellent paint & mechanicals
09/04 Listed for sale on Ebay with fresh paint and upgraded wheels (see new pic)
10/04 Purchase from Trishtram Buckley with 19800 miles by Kent Maitland of Vancouver Wa., $10,000 of service work performed by Ron Tonkin Gran Torismo of Portland Or.
05/05 Currrent mileage stated by owner Kent Maitland 23,943 and is said to be in excellent mechanical condition, new Connolly leather going in 5/31/05
09/09 New install of QA-1 shocks