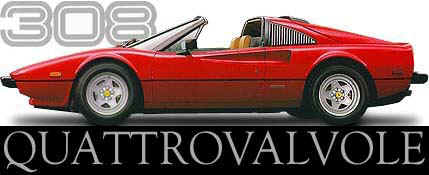 1983 Ferrari 308 GTS QV
Chassis # 46269 US Model
Giallo Modena with Nero
Production date: April 1983
---
6/83 Sold new at FAF Motorcars Atlanta Georgia
3/84 Offered for sale at FAF Motorcars Atlanta Georgia $54,500.00
8/85 Offered for sale at Foreign Cars Italia of Greensboro NC, repainted
Silver/blue with Black int. sold for $43,500.00 21000 miles
10/88 Offered for sale at FAF Motorcars of Atlanta Georgia and repainted
Rosso Corsa with Black int. 33000 miles $40,000.00
10/88 Sold to Judy L. Suggs of Roswell Ga.
10/00 Sold at Auto Auction to Import One of La.
6/02 Sold to Fortune Motors Inc. of Metairie La. with new clutch, brakes, exhaust and other service underwent complete cosmetic restoration and returned to original color of Giallo Modena
12/02 For sale by Fortune Motors Inc. for $37,000.00 and listed in FML
04/03 Sold to Jim Scileppi of New York City with 47600 miles , upgraded sound system added by customers request (Kenwood CD player, Kicker amp and speakers) transported VIA enclosed transport by Translogic Auto Transport.