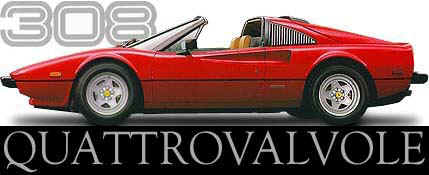 1983 Ferrari 308 GTS
Chassis # ZFFMA13A8D0047793 Model : Left Hand Drive North American
Production date :
Engine #
Gear box #
---
Twin Turbo conversion

SALVAGE TITLE

Victim of New York storm SANDY

Currently on EBAY

For sale, 1983 Ferrari 308 Quattrovalve. This car has some great upgrades.




Rare Speedline wheels.

Large Brembo calipers with 2 piece rotors up front.

The engine has been twin turbocharged with two IHI turbochargers (same brand as on the Ferrari 288).

Performance exhaust (no catalytics).

Momo Steering wheel and aluminum pedal covers.




The car is a flood survivor from the sandy storm; thus the salvage title (no wrecks or body damage though). Previously owned by a famous New York chef. We personally drained the engine and transmission oils which were clean; no water whatsoever. No water in the gauge cluster whatsover (water didn't get that high). Mostly we've had to fuss with cleaning electrical connectors. One of the headlights is temperamental and the windows move up and down very slowly; although I'm told the window problem is common to the 308s.




Dash is still in excellent condition, no pulling or puckering.




We welcome test driving or inspecting the car; you can also have your mechanic look the car over at our shop in Rocklin, CA; we can put it on a lift if desired. The bottom of the car and body panels are in excellent condition. The paint is a respray, good but not excellent.




Call with questions or to schedule an inspection, 916.765.4284. Low Reserve, Good Feedback, bid with Confidence. Car runs and drives beautifully, you will not be disappointed....now a 308 with enough power, combined with a car that already handles well and upgraded brakes!




Buyer is responsible for shipping.