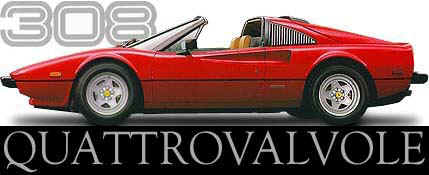 1983 Ferrari 308 GTS
Chassis # 48811 US Model
Sera Blue Metallic with Tan
Production date :
---
Modified for Track Use
09/03 Safety : Lightweight OMP race seats (drivers side adjustable) 5 pt. harness, Halon fire system with actuator button on dash. Four point roll cage.
Suspension : Custom shocks and springs. massive series IV Coleman calipers and rotors front and rear Tilton dual master cylinders, adjustable bias front and rear. Dual liquid-damped brake pressure gauges for consistent adjustment.
Tires/wheels : 2 sets of custom 16" alloy wheels. One set with new Dunlap SP sort 8000 245/45ZR16 rear and 225/50ZR16 fronts. Other set with heat-cycled Jumbo Vicotracer used about 10 laps.
Engine : New Electromotive Wintec3 EMS controlling ignition and fuel delivery, mounted behind pass seat. and can be monitored and programmed by Laptop via serial port. Electronic fuel/air gauge has been installed for tuning. Oil passages were reworked for better oil flow and cooling. Accu-pump pressurized oil system Intake was modified for performance. Custom cold box for air induction system. heavy duty radiator and oil cooler.
Service : regular service is performed. Brakes about 1000 miles ago, cam belts 2000 miles ago with new plugs and wires, new brake lines, motors mounts, and clutch, cables were recently replaced.
Other : A/C and heater were removed.
09/03 Currently has 60248 miles