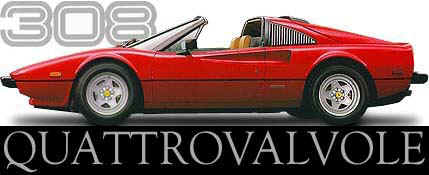 1983 Ferrari 308 GTB
Chassis # ZFFLA12B000044151 Model : Left Hand Drive European
Rosso Corsa with Nero
Production date : November, 1982
Engine # 0054284
---
12/82 Delivery Date and Warranty Start: December 1, 1982 Ferrari Import Kroymans BV. Soesrdij Kerstraarweg 66 Hilversum, Nederland Owner's List: Approximate Purchase Date: Mr. Johannes "Hans" Theodorus Bernardus Hugenholtz December 1, 1982 Beethovenlaan 24 - Naaroen, Nederland Mr. Hugenholtz is a famous Dutch race driver, who has raced consecutive years in Le Mans among other venues. He is Interim-C.E.O. of Spyker Cars, Netherlands. He was instrumental in selling Spyker's F1 division to Force India. His father designed most of the world's initial Formula One racing circuits as well as being a founding member of the Ferrari Club Netherlands. He purchased this 308QV at Kroyman's Ferrari, NL. Then, he drove it to Holland (although it was never registered) and shipped it to the next owner, Jim Dolgones, who had it American Federalized in California. IN his own words, "April 14, 2008 Dear Michael, Congratulations with your purchase of the Ferrari 308. I looked at the pics and it looks almost better than in 1983! I only owned this car for a very short time in Holland and shipped it to the US for a buyer. I was doing a bit of grey market exports in those days, mainly to California. Good luck with the car. Regards, John Hugenholtz.
12/82 Mr. Jim Dolgones December, 1982 Berkeley, CA Mr. Dolgones took delivery in Los Angeles where it was American Federalized. He drove 19,000 km
09/94 Mr. John Starner. Mr. Starner has a background in Engineering as well as Auto Racing. In his own words, "Yes I did own 1983 308 GTB QV (Euro model) that I purchased from Mr. Jim Dolgones in Berkley CA. At the time of purchase in late September 1994 the car had approx 19,000 km (12,000 +/- mi.). The history and the paper work that I was provided is that Mr. Dolgones purchased the car new in Europe and drove it there for a couple of weeks then shipped it by air to Los Angeles where it was federalized to meet EPA requirements (cats, etc.). When I purchased the car it was in pristine condition. I have a background in engineering as well in auto racing and with this background (I felt) I maintained the car in great shape. My use of the car was for events held by a local car club in the San Bernardino/Riverside area and the Ferrari Owners Club based in Los Angeles. The activities included car shows, social events, and destination drives (no racing or rallies). When the car left here (June 2004), there were 3 sets of exhaust systems - stock from factory, a garbaged up system that was put on at time of federalizing in L.A., and a Borla stainless system I put on the car and ran all the time. I also purchased new Speedline wheels and put new tires on to replace the factory set. Also, the original wheels and tires (metric) went with the car when it left here as well as a few small parts that were gathered along the way. At about 15,000 mi the engine was removed to replace the cam shaft belts, replaced the differential bolts for the ring gear, replace the water pump, and performed general maintenance within the engine compartment such as checking the CV joints and replace boots. The records that went with the car should show all that. Hope this helps in response to your inquiry about the car. John Starner
07/04 Jeremy Lowell, Owner GOLDS GYM July 1, 2004 3519 Duff Drive Falls Church, VA 22041 Mr. Lowell owns Gold's Gym, and the 308QV was licensed with the plates, GOLDS.
06/06 Ryuji Ueno June 29, 2006 24687 Yacht Club Road St. Michaels, MD 21663 Dr. Ueno is a world renowned biologist and maintains an extensive exotic automobile collection. The 308QV was maintained and stored in a private collector car garage. During that time, a major was performed, and new clutch installed.
09/07 Michael J. Humphreys September 28, 2007 7801 Yankee Harbor Drive Montgomery Village, MD 20886 Mr. Humphreys took possession of the 308QV with 34,500 miles. Replaced timing belt and cams, oil and filter, and the complete Borla exhaust system was modified under Maryland Historic Car regulations by having all cats removed. Mr. Humphreys participates in local FCA events as well as entering the 308QV in car shows where it has won many Best in Class, Best in Show, and numerous other awards.