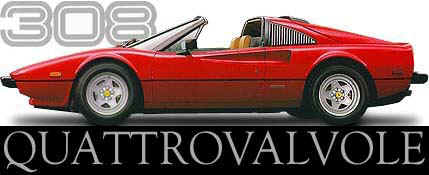 1984 Ferrari 308 GTS
Chassis # 49371 US Model
Anthracite with Bordeaux
Production date :
---
06/88 Sold by Algar Ferrari with 36000 miles for $49,500.00
01/05 Current owner James Scott of Texas.
02/10 Currently offered for say on Ebay
Owners comments
General history-I bought the car in 2002. As far as I know, I am the 4th or 5th owner. I have traced the ownership to; it was sold at a Barrett Jackson Auction – Scottsdale in 1994 to a person in Miami-Florida, who sold it to a person in Beverly Hill-CA, I bought in 2002 and brought it to Austin Tx, I am now living in Arizona. I am only selling it because I was in a motocross riding accident and broke both legs. I currently struggle to walk and am unable to push in the clutch. My dream car has been sitting for 1½ year now and the outlook of me driving it again is not good.
Condition-this Ferrari runs great and is consider the only Ferrari which could be considered a daily driver. The paint is shiny and looks good, but is has a several little rock nicks here and there, I had planned to paint it someday. Everyone stops and looks at this car on the road. The Grey/Red color is original and is uniquely different to all of the "red Ferraris". The interior is good, new dash (but not the instrument cowl it needs to be re-done) Seat are in good shape, no tears or rips. All of the instruments and accessories work, windows roll up really slow, and the light switch is a little sensitive. Just get in a drive it… everyday if you like, it is very reliable, never overheats and the AC work good and sounds great… Alpine stereo and Infinity speakers.. Tires and brakes are in great shape
Maintenance-I have all of the records since I have owned it, I do not have any history prior to my ownership. Since I have moved, I am still looking for my maintenance file… I should find it before it sells.. I have completed a 60k service at 68k miles. In addition to the 60k requirements, I did the following; replace all of the exhaust valves, new water pump, it cost me about $9,000. I rebuilt the entire AC system with R134, had to replaced a leaky brake caliper. The car came with aftermarket exhaust, which was really loud and did not have cat-converters. I replace the exhaust with original and added cats to pass emission testing in Texas. New dash (but didn't realize the instrument cowl was not included with the dash.. so the instrument cowl needs to be done), replaced the automatic antenna with a manual one.
Negative-paint is shiny but could use a paint job. The wheels are original but are painted silver and should be refinished properly… the windows roll up very slow… almost embarrassing slow.