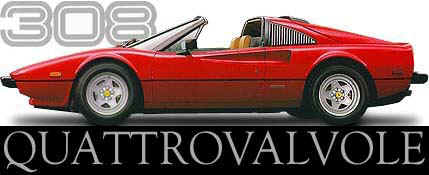 1984 Ferrari 308 GTS
Chassis # 50127 US Model
Rosso Corsa with Tan
Production date :
---
04/84 Sold new by FAF of Ga. with 152 miles by salesmen John Apen to Cordova Automobile and Recreational Society.
10/85 Sold to Dr. Wayne Campbell Jr. of Pennsacola Fl. for $43,000.00 with 11000 miles
09/88 Service completed by Harborview Motors Ltd. of Fl.
05/90 Serviced by Ferrari South of Jackson Ms.
07/96 A/C reworked by Ferrari South and inspection for sale.
10/98 Purchased by Ed Mahoney of Madison Ms.
10/98 Service by Ferrari South
11/98 New ignition and Digiplex by Capital Sports Center Jackson Ms.
04/01 Major service by Capital Sports Center Jackson Ms.
04/01 Traded to Blackwell Chevrolet with 47000 miles
05/03 Purchased by Fortune Motors Inc. ( Wade Nunez ) of Metairie La. 48600 miles
06/03 Sold to Matthew Cooper of Maryland Tubi exhaust installed, new leather on seats and all interior re-dyed, vinyl on instrument pod replaced with leather, Deep European chin spoiler installed and painted by Fortune Motors Inc. Minor cosmetics performed by Fortune Motors Inc. to bring car to near show quality.