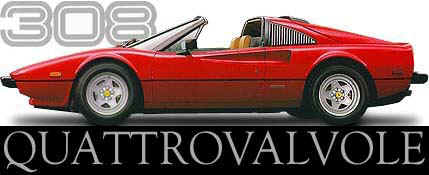 1984 Ferrari 308 GTS
Chassis # ZFFUA13AXE0052267 Model : Left hand Drive North American
Rosso Corsa with Beige
Production date :
Engine #
---
7/10 Offered for sale by T. Rutlands of Ga. with 73k miles , after a front end collision took 52267 off the road.
T.Rutlands comments
CLEAN TITLE. 1984 Ferrari 308 GTS QV. 73009 miles. Red / Tan interior. This 308 was in higher than average condition when a pole jumped out in front of the right turn signal causing the damage shown in photos. This vehicle still RUNS GREAT and Drives fine as long as you go straight. You can not turn much due to the right front fender interfering with the tire. The windshield is not cracked and both doors open and close fine. Did not loose the radiator coolant. Always a California car until this week. The vehicle service was kept to a very high standard by its most recent 10 year owner. Jack kit, tool kit, original zippered trunk cover, original antenna, original 16" magneseum wheels, excellent tail lights, rear bumper, complete interior, complete drivetrain, and many newer parts.
Please contact us at 1 800 638-1444 or ebay@trutlands.com for more info.