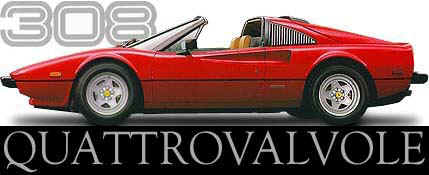 1985 Ferrari 308 GTS
Chassis # ZFFLA13B000054403 Model : Left Hand Drive European
Rosso Corsa with Crema
Production date : Nov. 1984
Assembly # 896
Engine # F105A
Gear Box# 02383
---
11/84 Completed at Factory
12/84 Delivered new to Al-Ajda Automotive of Saudi-Arabia
4/25/86 imported into the US by Charles Chi Sun, Silversprings Maryland.

8/21/87 Sold to Motorwerks Sales / leasing dealership, Centerville Ohio, Odo. Reading 2750 miles.

10/87 sold to Martin Okun, Washington DC Odo. Reading 2824 miles.
From current owner: Kim Holdbrook
regarding Martin Okun ownership: I 'm quoting Martin's email to me.. " soon after I bought the car there was a major motor problem. By referral it went to Tim Holt/Holt Motorsports in Cherry Hill, New Jersey, he employed three Ferrari factory trained mechanics, they rebuild the engine top to bottom and it was better than new. Tim currently has a business called Holt Motorsports in West Chester Pennsylvania. ($22,000) Absolutely loved that QV. Own a Testarossa now."
I called Holt Motorsport and spoke with Tim regarding my QV, he actually called me twice more with more info on #54403.
Martin Okun owned this QV until 8/6/91.
8/6/91 Sold it to Joanne and Jerry Feder, Crossville Tennessee. Odo.22,315mi. Purchase price $49,045.25

5/29/11 Sold to Walter and Jan McNichols, Saint Augustine Florida.

2/7/12 McNichols Family traded it in to Daytona dodge/Chrysler Daytona Beach Florida, and they transferred it to their sister dealership, Deland Nissan, Deland Florida
4/27/12 Sold to current owner Kim Holdbrook of Montana. Odo. 40,325 mi.