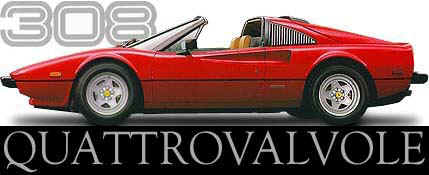 1985 Ferrari 308 GTS
Chassis # 54609 Model Left Hand Drive European
Nero Mettalizito with Tan
Production date :
---
00/85 Sold new by Auto Becker Germany
00/87 Imported to US and converted by Dick Fritz of Americspec
08/96 Sold to buyer in Cincinnati Oh.
07/99 Sold to buyer in Dayton Oh. with 32,847 miles Title # 2900374570
08/99 Title issued to new owner in Dayton Oh with 32,829 miles Title # 5701649453 recored as lease vehicle
11/01 New title issued with miles 24,710 in Dayton Oh. Title # 5702254611
11/02 Sold to new owner in Weaverville, NC
10/03 Car involved in collision (roll over) DMV Case # 101022016
(emailed to me on 7/17/2013 by previous owner Stephen Thompson clarifying accident history,
Was just visiting your site, hoping to find a picture of the 308 I used to own. I did!! Itís the GTS #54609. I was the owner in Weaverville, NC. I see that it says it was involved in a rollover in October 03. That is a major misstatement. I realize that is apparently what is on the DMV report, but I can speak to the reality of the incident, since I was driving! I hit a guardrail. It dented the front and rear right fenders. Thatís it! Had it repaired and it looked better than new! Anyway, I donít know if thatís useful info for your site, or not, but I would hate to think people would believe that car was involved in a rollover when it was not. It was a wonderful car and I miss her!
Stephen Thompson)
09/06 Offered for sale on Ebay by Sky Land Automotive with 39,735 miles