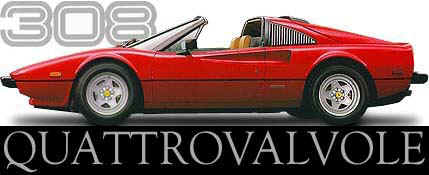 1983 Ferrari 308 GTS
Chassis # 42231 Model : Left Hand Drive North American
Rosso Corsa with Tan
Assembly #
Production date :
Engine #
Gear box #
---
10/88 Offered for sales by Motorcars By Coachworks of Missouri with 25k miles

05/17 Current owner Jared Quintana of Co.

"My father, Michael Quintana, bought the car in the summer of 2001 from a car dealership in Denver (I believe it was Stevinson Toyota, maybe their Lexus dealer). Someone had traded it in when they bought a new car. My dad passed away in December 2012, which is when I inherited the car. When I inherited the car the license plates had a 2007 registration on them, which would make sense because my dad was constantly battling an overheating problem. I had the car into a mechanic in 2016 and now it runs awesome and no overheating.

"