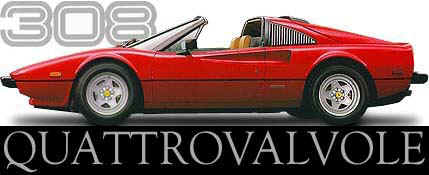 PROTOTYPE
1981 Ferrari 308 GTS
Chassis # 35351 Model : Left Hand drive European
Argento with Nero
Production date :
Engine #
---
Offered May 2001 at Poulain Le Fur / Sotheby's Auction, Monaco. Lot no. 6. Claimed to be fitted with a prototype QV engine. Stolen from the factory in Maranello in 1981. A year later it was in the possession of a Marseilles gangster who was killed who took with him the secret of his acquisition. Car was auctioned off and acquired by a Corsican dealer who sold it to the current owner. On a trip to Belgium the owner left the car with a Ferrari dealer for service, its true identitry discovered and the car was seized. After 1-1/2 years the car returned to its owner 38,000 km.
Courtesy of SCM
his is the first 308 to have a four-valve engine installed, a prototype built by the factory in 1981. Emmanuel Joffret described the car and its dark and mysterious life in the magazine Auto Hebdo, which specializes in Ferraris. Supposedly, this prototype was stolen from the factory in Maranello during 1981. A year after the "owner," a gangster from Marseille, was killed, the car was auctioned and became the property of a Corsican car dealer, who later sold it. During a trip to Belgium, the new owner left the car for service at a Ferrari dealership. Confused by some of the unique parts on the car, they contacted the factory. When they were told that the engine number was that of the car stolen three years previously, they immediately seized the car. The owner was offered a new 308 QV GTS by the factory in exchange for his "prototipo," which he refused. After one and a half years of legal wrangling it remained the property of the current seller. Today, the car is in very good original condition, with only 38,000 kms. While previous owners attest that the car is much more powerful than a regular production model, we were unable to test it to verify that. Here is a chance for someone to own a rare and important piece of Ferrari history.
This 1982 Ferrari 308 GTS QV "Prototipo" Review and Buyer's Guide appeared in the August, 2001 Issue of Sports Car Market Magazine.
The car in question sold at the Poulain Le Fur auction in Monaco, May 25th, 2001, for $30,633 including buyer's premium and VAT of 17.94%. I am not exactly what you would call a fan of 308s. There is nothing inherently wrong with them, but Fiat cranked them out like there was no tomorrow, over 10,000 in all. To me a 308 is just another late-model used car, with a good potential for astronomic maintenance and equally high-priced repairs. The car at hand is described as a 1982 "Prototipo" GTS QV, built in 1981, supposedly the first 308 to have the four-valve engine that Ferrari designed to make up for the power lost to emission controls. This car's history reeks of intrigue, danger, gangsters and a touch of the daytime soaps. Its story (dare I call it a provenance?) is fascinating. Initially stolen from the factory. First "owner," a gangster from Marseille, is killed. The second owner is an automotive repair shop proprietor in Corsica. (In my experience there is little difference between the former owner and the latter.) After this, the ownership story becomes banal and less interesting. I have some problems with the catalog's description, though. Normally Poulain's write-ups are precise and documented. This one, about the "prototipo," is not. The whole story is based on an old article in a French magazine, without any of the usual verifications. One might think that Ferrari would provide some information about a prototype stolen from its factory; surely this isn't a frequent occurrence. The catalog description goes on to paraphrase the article, saying that a 1981 308 chassis received this first experimental QV engine, which had magnesium castings, and produced more power than the production engine. Which castings are magnesium? Are we talking about the timing chain cover, the water pump, the cam covers or the whole block? How much extra horsepower and why? A few more ponies or a whole bunch? Not only is the catalog silent on these issues, but also the dreaded words "the owner says" are used at the end of the article to substantiate the higher horsepower claim. We here in the States often hear this ugly "owner says" expression, but this is the first time in more than ten years of reading Poulain's catalogs that I have seen them use it. But back to the car itself. It looked like a nice used car. The claimed mileage of 38,000 km (23,750 miles) is believable. Of course, every 308 for sale in the world also seems to have less than 30k miles on the clock. Since there was no mention of service records, it will be ready shortly for the dreaded and expensive ($4,000) 30,000-mile service. Overall, the cosmetics were nice enough, although a black vinyl strip, going the full length of the rockers, proclaimed "PROTOTIPO" in foot-tall letters. This monument to bad taste is something only a Middle Eastern nouveaux riche would dare. The audience did not pay much attention to the "Prototipo" hoopla either, the car sold for about the market price of a normal four-valve. Was it a good buy? I don't have a clue. I wish the best of luck to the new owner. May he have the good taste to remove the phony vinyl strip; may he have the additional good fortune to remove it cleanly, without need for repaint. May the 30,000-mile service reveal no expensive surprises. May he enjoy the car. My advice to him is to hang on to the catalog and find a copy of the original magazine article. Without them, the car's great story is just another tall tale that gets repeated at the café, late at night after one too many glasses of Bordeaux.—Raymond Milo (Historical data and photo courtesy of auction company.)