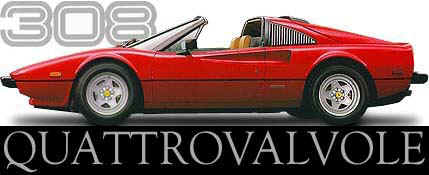 CLASSIFIEDS
For the Ferrari 308 QV only.
To list your car for sale simply send an email with your cars information to classified listings please be sure to include your chassis # and a picture for free until it sells
1983 308 QV GTS, s/n 48811. Sera Blue Metallic/tan. Over the last 5 years, the car has been completely rebuilt. Outstanding performance. If you want a Ferrari that you can drive on the street and safely run on the track, this is the way to go.
1984 308 GTS QV, s/n 47387. Verde Tenue (medium green)/tan (red carpets). 18,000 mi. New battery, tender, BFG tires, belts, plug and coil wires, alignment. All tools, books. Fitted cover. Never raced, no rust, always covered and garaged. Very good condition.